9 kg
Washing Capacity (kg)
Yes
Bubble technology
No
VRT
A+++
Energy Efficiency Class
Open wider. Unload easier.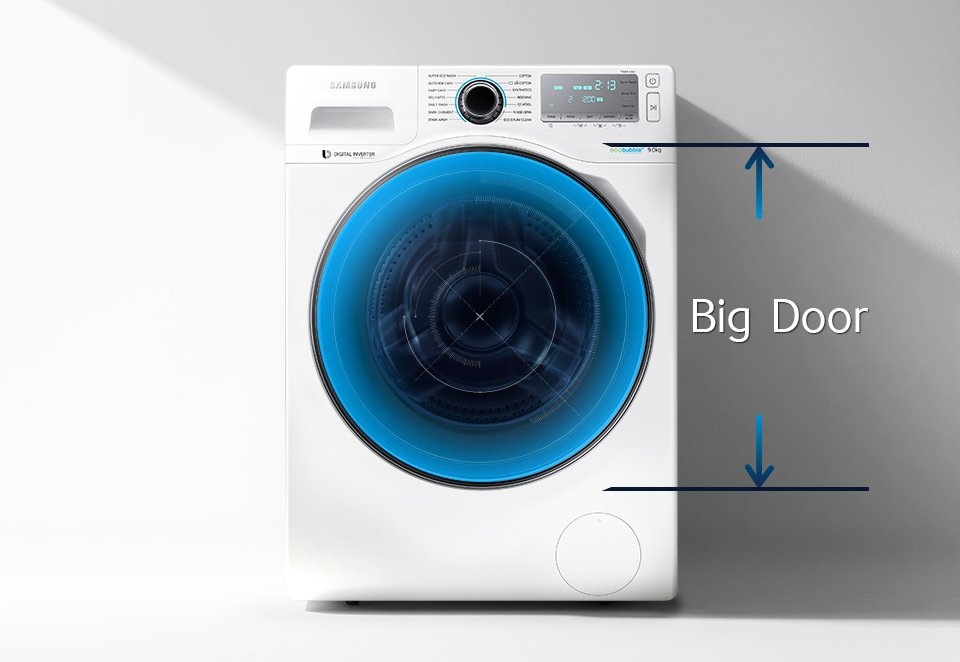 A washing machine that features an extra-large door, with a Metal Double Hinge that opens wider, so it's significantly easier to load and unload clothes. Its minimal frame allows it to fit perfectly within a modern style living space, whilst its translucent Crystal Blue door refracts light to create a beautiful spectrum of colours.
Wash cool. Save energy.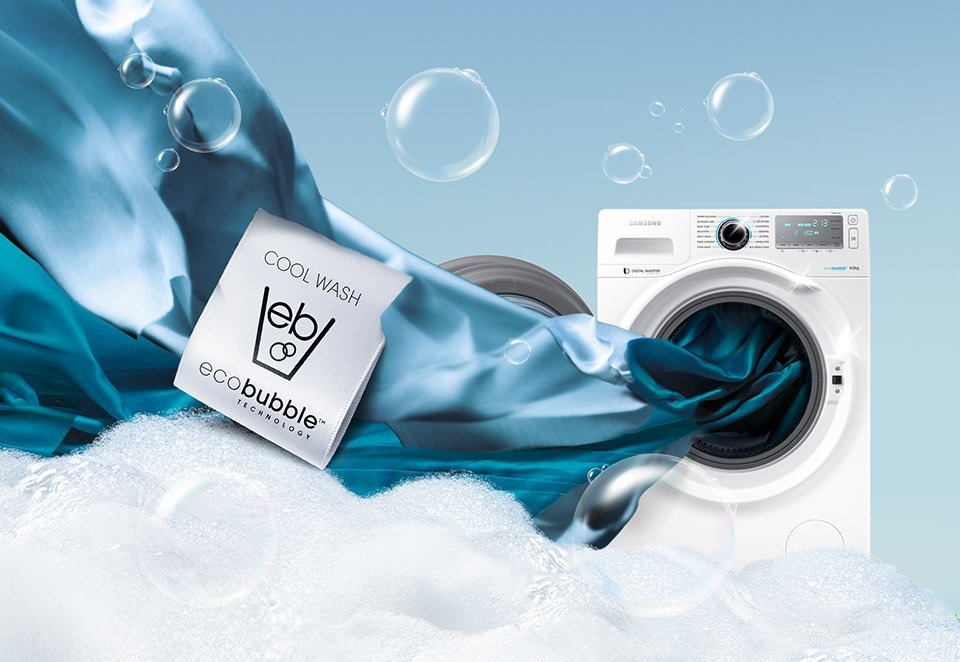 The Samsung washing machine helps you save a huge amount of energy by washing large loads at low temperatures using its ecobubble™ technology. Before the normal cycle begins, the unique bubble generator starts working. It uses air and water to generate bubbles that dissolve and activate the detergent, so it quickly penetrates every fibre of fabric and removes dirt and stains easily – washing just as effectively in cool water (15 °C) as in warm using the Super Eco Wash cycle. * Tested in accordance with IEC 60456-2010 / 4kg Wash Load / Super Eco Wash cold (WF80F5E5U4W) vs. Cotton 40° without Eco Bubble (WF0702WKU). Individual results may vary.
Fast? Efficient? You choose.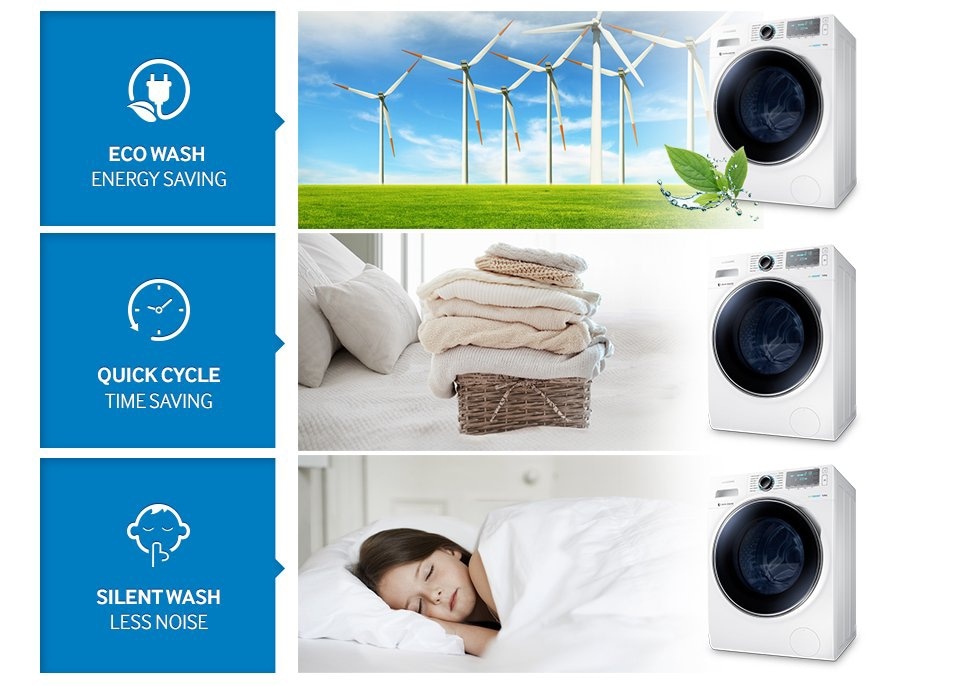 With Eco Wash and Speed Wash options you can pick the one best suited for your needs. If you want to reduce your energy bills and be environmentally friendly, pick the Eco Wash option. If you need to wash clothes in a hurry, Speed Wash is up to the task. With Prefer Mode, you can choose how to make your wash perfectly fit your changing needs.
Long-Lasting Motor Performance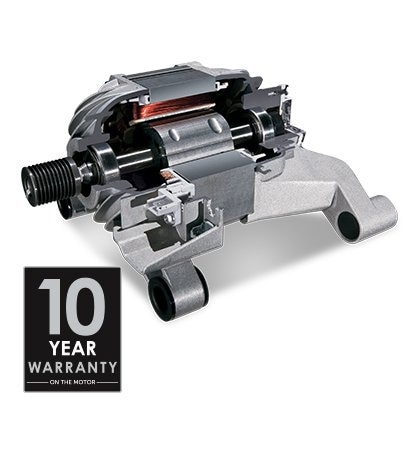 The Samsung washing machine's Digital Inverter Motor delivers superior energy efficiency, minimal noise and long-lasting performance. It utilises strong magnets for a quieter and more powerful performance, but consumes less energy than a standard Motor. And, by eliminating the use of brushes that create friction and wear out, and by using high quality components and outstanding mechanical engineering, it provides outstanding durability – backed-up by a 10 year motor warranty that guarantees the long life of your washing machine.
Effective deep cleaning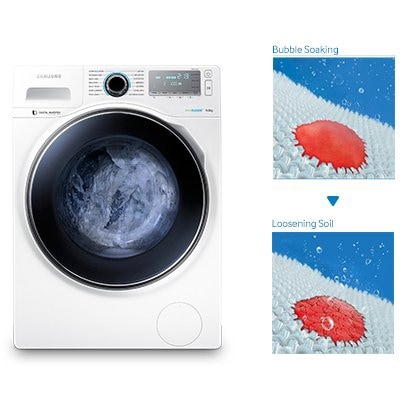 The new Samsung washing machine's Stain Away cycle is pre-programmed to help get rid of dozens of common, stubborn stains. Thanks to ecobubble™ technology, the bubbles penetrate deep into fabric fibers and loosen dirt. Then, with the frictional force of the washing stage, various stains like blood, cocoa, tea, wine, tomato, mud, make-up, lipstick and grass are removed effectively.
Easy troubleshooting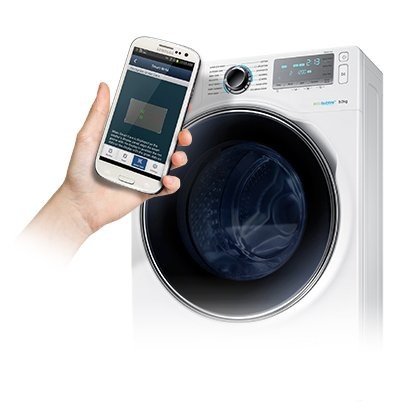 The new Samsung washing machine includes Smart Check, an automatic error-monitoring system. It detects and diagnoses problems at an early stage and provides quick and easy troubleshooting solutions using a smartphone App. So it saves you time having to find the manual and avoids the cost and inconvenience of unnecessary engineer callouts – and potentially expensive repair bills.

Eco Drum Clean
The Eco Drum Clean function keeps the drum, diaphragm and door glass clean and hygienic using hot water and a high-speed spin cycle. So it's eco-friendly and saves you money on detergents.
9 kg Washing Capacity (kg)
Yes Bubble technology
No VRT
A+++ Energy Efficiency Class
600 x 850 x 600 mm Net Dimension (WxHxD)
73 kg Net Weight
---
SPECIFICATIONS
Washing Capacity
Washing Capacity (kg) 9 kg
Design
Body color White
Door Crystal Blue
Panel Display Metal Skin (G.LED)
Performance
Energy Efficiency Class A+++
Energy Consumption (annual) 151 kWh
Water Consumption (annual) 9400 L
Spin Efficiency A
Noise Level (Wash) 52 dB
Noise Level (Spin) 74 dB
Feature
Aqua Hose No
Bubble technology Yes
Child Lock Yes
Delay End Yes
Drum type Swirl Drum
Interior Drum Light Yes
Last Memory Yes
Leakage Sensor No
Motor Digital Inverter Motor
Prefer Mode Yes
Smart Check Yes
Spin Speed 1400 rpm
VRT No
Cycle
Additional Cycle E Cotton
Baby Care Yes
Bedding Yes
Cotton Yes
Daily Wash Yes
Dark Garment Yes
Delicates Yes
Eco Drum Clean Yes
Option List Quick wash, Prewash, Intensive Wash, Soak, Easy Iron
Outdoor Care Yes
Rinse + Spin Yes
Stain Away Yes
Super Eco Wash Yes
Synthetics Yes
Wool Yes
Physical specification
Net Dimension (WxHxD) 600 x 850 x 600 mm
Net Weight 73 kg
Washing Machines - Front Load Full Auto Washer - Eco Bubble
Brand: Samsung
Product Code: Washing Machines - Front Load Full Auto Washer - Eco Bubble
Availability: In Stock
---
Tags: Washing Machines - Front Load Full Auto Washer - Eco Bubble